Features: Special
The third installment feature from this year's NVIDIA GTC covers a lot of terrain as it summarizes key panel discussions from leading global architecture firms.
Notable Words
Features: Interviews
Continuing our coverage from the 2018 NVIDIA GTC Conference, Akiko Ashley profiles how CannonDesign—one of the architectural presenters at the GTC—utilizes NVIDIA GPU Technology across a range of virtualized desktop infrastructure and workstations powering everything from Revit to Unreal.
Features: Product In-Depth
In-Depth: How Developer 'Perfect Parallel' is Changing the Game of Golf
In this feature we talk to Andrew Jones, COO of Perfect Parallel, a leading-edge software developer with a range of inter-related golf design, gaming, visualization, and broadcast suite technologies. What makes this company so fascinating goes beyond its tech and into its relationships and aspirations. Relationships with firms like Nicklaus Design, as well as the professional golf networks in the United States and abroad, have Perfect Parallel poised to shake up the game of golf. 
Features: Firm and Artist Profiles
Fall in love with drawing again…is the tagline at Autodesk's SketchBook app home page. In disciplines that used to be all hand-drawn, this feature on SketchBook user Eric Arneson shows why there is no need to be reminscient about it. You can draw beautifully by hand today—just digitally.
Bespoke Computational Tools at Payette Drive Unforeseen Values to Firm and Client Alike
Grasshopper, Ladybug, Honeybee, HumanUI…these are just some of the buzz words among those doing computational design at Payette, a subset of the major Boston-based practice doing work around the world.
Gaming Tech Takes Over—SPACIALISTS Touts Its Unreal Engine Viz Pipeline
As game engines continue to evolve as full-fledged complete 3D development environments, their ability to simplify complex development challenges across platforms means more professional 3D pros will begin to take advantage of them.
Features: Viewpoint
Can architects ethically embrace the cryptocurrency phenomenon knowing just how much energy it consumes?
Viewpoint: BIM—How should building product manufacturers cope with rising needs?
Building contractors continue to embrace the BIM process change revolution in the AEC industry, but a key implementation issue remains inconsistent standards and deployment of digital BIM object files by building product manufacturers.
Viewpoint: With BIM, EPC Firms Cannot Charge More—But They Can Charge Differently
Construction project owners are raising the bar of expectations, BIM consulting and modeling fees for an EPC firm isn't the concern—it is how smartly they can generate revenue off of BIM.
Featured Video
In this featured video, Architosh showcases the key features in Vectorworks 2017 so that readers and users of this software can get excited about what comes next! Vectorworks 2018 is just around the corner.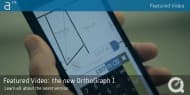 Featured Video: The New OrthoGraph I System
In this featured video Architosh showcases all the capabilities and uses of the all new OrthoGraph I mobile cloud-based app for Apple iOS and Google Android mobile devices, used in conjunction with laser distance meters like the Leica DISTO D2. Learn how to streamline field dimensioning and take data straight into BIM and CAD applications.
Featured Video: The All New Vectorworks 2017
In this featured video, Architosh showcases all the new great features in the new Vectorworks 2017 product range, including some BIM interoperability capabilities including native Revit import.