Features: Special
Bentley Systems Advances Digital Twins—Critical to Smart Infrastructure and Climate Change  
This feature—which was originally published in our free monthly newsletter (INSIDER Xpresso) several weeks ago—focuses in on what we learned from the Bentley 2019 Year In Infrastructure Conference, held in Singapore, this past October. The key innovations we want to talk about from that conference center around "digital twins," but we also want to highlight some stunning facts about the size and growth of the global infrastructure market. Some of these are "head-spinning" and hard to fathom, but nonetheless absolutely true.
Notable Words
Features: Interviews
In this feature, we learn from Dr. Biplab Sarkar about some of the thinking behind many of the new features in Vectorworks 2020, just recently released, and where parts of the application may be going in the future.
Architecture in Perspective—An Interview with Keely Colcleugh of Kilograph
Professor Randy Deutsch—Discussing the Future of Architects: Convergence and Superusers (Part 2)
Author, architect, and professor Randy Deutsch talks to Architosh about his last two hit books delving into the transformative forces shaping change in AEC and the nature and characteristics of some of the architects responding to those forces he calls Superusers.
Features: Product In-Depth
Most large AEC firms with multiple locations seek out agility for their operations. Southland Industries in the United States accomplished this recently with VDI via GPU workstations from Workspot.
Real-Time or Your-Time—How Visual Vocal Can Change the AR/VR Landscape in AEC
OrthoGraph Enterprise Software Delivers Superior Benefits For Long Term Building Operation
While analog to digital methods for building survey work seemed immediate and valuable in the age of CAD, in the era of BIM they fail to deliver the high-value facilities managers demand in the age of cloud-based CAFM (computer-aided facilities management).
Features: Firm and Artist Profiles
The scape Landschaftsarchitekten office in Germany is one landscape architecture firm that is excelling at its use of BIM technology in their practice. The lessons, from both failures and successes, are critical to the firm's success overall.
BIG BIM plus Open BIM with Vectorworks Architect
You likely associate Vectorworks—a CAD/BIM software with historically strong graphics capacity—with marquee designers like Daniel Libeskind and award-winning small firms. However, you might want to start updating your associations.
Profile: Design Excellence—The Work of Vectorworks Scholarship Winners
The Vectorworks Design Scholarship offers lucrative prizes but its student winners show us just how talented and deserving their creative work really is.
Features: Viewpoint
Will AI and machine learning replace human engineering skill anytime soon? What are the factors behind this question and are there good examples? John Hannen shares his viewpoint.
The Ethical Conundrum of Bitcoin for Sustainable Architects
Can architects ethically embrace the cryptocurrency phenomenon knowing just how much energy it consumes?
Viewpoint: BIM—How should building product manufacturers cope with rising needs?
Building contractors continue to embrace the BIM process change revolution in the AEC industry, but a key implementation issue remains inconsistent standards and deployment of digital BIM object files by building product manufacturers.
Featured Video
In this featured video, Architosh showcases the key features in Vectorworks 2017 so that readers and users of this software can get excited about what comes next! Vectorworks 2018 is just around the corner.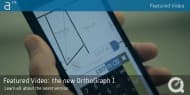 Featured Video: The New OrthoGraph I System
In this featured video Architosh showcases all the capabilities and uses of the all new OrthoGraph I mobile cloud-based app for Apple iOS and Google Android mobile devices, used in conjunction with laser distance meters like the Leica DISTO D2. Learn how to streamline field dimensioning and take data straight into BIM and CAD applications.
Featured Video: The All New Vectorworks 2017
In this featured video, Architosh showcases all the new great features in the new Vectorworks 2017 product range, including some BIM interoperability capabilities including native Revit import.