Features: Special
The fourth edition of our annual INSIDER Reports delivers a focus on five disparate innovators making large impacts in the AEC/CAD markets.
Notable Words
Features: Interviews
TestFit.io — Architecture Needs a Better User Experience
Could the field of architecture offer a different kind of experience for clients? TestFit.io's founder, a trained architect himself believes so. TestFit.io technology is enabling architects to get paid for work they use to give away for free. And the good news is architecture can get better and architects can be more valued.
Features: Product In-Depth
The future of Bentley's ProjectWise 365 looks bright—technical advances, standards adoption, and carry-over from traditional ProjectWise customers all suggest good things for Bentley.
Smart Cities Tech—How ADRF Addresses the Always Connected Challenge
Both Smart Infrastructure and higher demands by people and their enterprises are placing a premium on always-on RF (cellular) based networks. ADRF's technologies are solving these 21 st century challenges.
National Engineering Firm Becomes Far More Agile with VDI via GPU Workstations
Most large AEC firms with multiple locations seek out agility for their operations. Southland Industries in the United States accomplished this recently with VDI via GPU workstations from Workspot.
Features: Firm and Artist Profiles
A Florida architecture firm, strongly oriented towards energy-performant design, has journeyed to BIM with Vectorworks Architect and isn't looking back.
From Mountain Top to Watering Hole — The Design Work of Rosan Bosch Studio
A world-leader in how design can affect behavior, especially in learning situations, shares details about their process, methods, and tools of the trade.
The Sensible Pathway to Open BIM — One German Firm's Story
ARP ArchitektenPartnerschaft with Vectorworks has benefitted from a scalable pathway to BIM, from little BIM to Big BIM with Open BIM.
Features: Viewpoint
Remote construction work has been especially hard on the construction sector. This article explains why and what industry leaders are saying.
Building Bridges, Not Fences — Open Standards Are Key
For the construction industry to match productivity gains made in other industries, digitization based on open standards must prevail.
7 Reasons Why BIM Adoption is Important for Architects
Understanding why BIM for Architects matters for project success is explored in seven key areas — helping to drive BIM adoption by architects.
Featured Video
In this featured video, Architosh showcases the key features in Vectorworks 2017 so that readers and users of this software can get excited about what comes next! Vectorworks 2018 is just around the corner.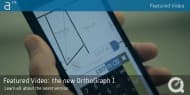 Featured Video: The New OrthoGraph I System
In this featured video Architosh showcases all the capabilities and uses of the all new OrthoGraph I mobile cloud-based app for Apple iOS and Google Android mobile devices, used in conjunction with laser distance meters like the Leica DISTO D2. Learn how to streamline field dimensioning and take data straight into BIM and CAD applications.
Featured Video: The All New Vectorworks 2017
In this featured video, Architosh showcases all the new great features in the new Vectorworks 2017 product range, including some BIM interoperability capabilities including native Revit import.