Features: Special
Early personal computers were called "toys" by the mainframe and minicomputer people. In the end, the so-called toys ruled the day.
Notable Words
Features: Interviews
Bjarke Ingels Group (BIG) is the most game-changing internationally celebrated architecture practice in existence, but even hearing about their work with Audi was still shocking. In this interview, Kai-Uwe Bergmann gives us a special insider view of how their firms thinks—about practice…project opportunities and the architectural industry.
Features: Product In-Depth
In-Depth: How Developer 'Perfect Parallel' is Changing the Game of Golf
In this feature we talk to Andrew Jones, COO of Perfect Parallel, a leading-edge software developer with a range of inter-related golf design, gaming, visualization, and broadcast suite technologies. What makes this company so fascinating goes beyond its tech and into its relationships and aspirations. Relationships with firms like Nicklaus Design, as well as the professional golf networks in the United States and abroad, have Perfect Parallel poised to shake up the game of golf. 
Features: Firm and Artist Profiles
Grasshopper, Ladybug, Honeybee, HumanUI…these are just some of the buzz words among those doing computational design at Payette, a subset of the major Boston-based practice doing work around the world.
Gaming Tech Takes Over—SPACIALISTS Touts Its Unreal Engine Viz Pipeline
As game engines continue to evolve as full-fledged complete 3D development environments, their ability to simplify complex development challenges across platforms means more professional 3D pros will begin to take advantage of them.
Firm Profile: BOGDAN & VAN BROECK—The Ecology of Densification
Continuing on a trend of expanding the scope of discourse beyond the "digital" in design practice, Architosh is pleased to present this feature interview of Belgium professor engineer-architect Leo Van Broeck and his award-winning ecological, research-oriented design practice. The design keynote speaker at the recent Vectorworks Design Summit, Leo spoke to Architosh recently about his firm, co-founder, work and their philosophical positions in the field of architecture and urban design.
Features: Viewpoint
Can architects ethically embrace the cryptocurrency phenomenon knowing just how much energy it consumes?
Viewpoint: BIM—How should building product manufacturers cope with rising needs?
Building contractors continue to embrace the BIM process change revolution in the AEC industry, but a key implementation issue remains inconsistent standards and deployment of digital BIM object files by building product manufacturers.
Viewpoint: With BIM, EPC Firms Cannot Charge More—But They Can Charge Differently
Construction project owners are raising the bar of expectations, BIM consulting and modeling fees for an EPC firm isn't the concern—it is how smartly they can generate revenue off of BIM.
Featured Video
In this featured video, Architosh showcases the key features in Vectorworks 2017 so that readers and users of this software can get excited about what comes next! Vectorworks 2018 is just around the corner.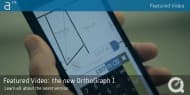 Featured Video: The New OrthoGraph I System
In this featured video Architosh showcases all the capabilities and uses of the all new OrthoGraph I mobile cloud-based app for Apple iOS and Google Android mobile devices, used in conjunction with laser distance meters like the Leica DISTO D2. Learn how to streamline field dimensioning and take data straight into BIM and CAD applications.
Featured Video: The All New Vectorworks 2017
In this featured video, Architosh showcases all the new great features in the new Vectorworks 2017 product range, including some BIM interoperability capabilities including native Revit import.