Latest Industry News
A great 3D industry training and learning event takes place in Hollywood next week, a few days ahead of SIGGRAPH in Los Angeles.
GRAPHISOFT 2017 KCC Reports
We continue our Kyoto coverage of GRAPHISOFT's Key Client Conference by looking at the many Asian software solutions being developed on the ARCHICAD platform or in support via IFC and Open BIM principles. We also look at something kind of special from HP.
Latest Architosh Features
AEC professionals have long valued the idea of clash detection in software systems. But quality and fruitful MEP coordination team meetings take more than just values and ideas—they take structured practices that leverage leading industry tools.
Industry Commentary and Analysis
New investors in Architizer Source include Bjarke Ingels (BIG) and Katerra. Online marketplace for AEC industry building materials gaining traction.
Editor Selections -- For You
Continuing on a trend of expanding the scope of discourse beyond the "digital" in design practice, Architosh is pleased to present this feature interview of Belgium professor engineer-architect Leo Van Broeck and his award-winning ecological, research-oriented design practice. The design keynote speaker at the recent Vectorworks Design Summit, Leo spoke to Architosh recently about his firm, co-founder, work and their philosophical positions in the field of architecture and urban design.
Featured Video
In this featured video Architosh showcases all the capabilities and uses of the all new OrthoGraph I mobile cloud-based app for Apple iOS and Google Android mobile devices, used in conjunction with laser distance meters like the Leica DISTO D2. Learn how to streamline field dimensioning and take data straight into BIM and CAD applications.
What You May Have Missed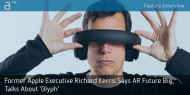 Former Apple Executive Richard Kerris Says AR Future Big, Talks About 'Glyph'
Many Architosh readers may remember Richard Kerris from his days at Apple as Senior Director of Developer Technologies (his role from 2001 – 2007) where he led worldwide developer relations and technical marketing across audio, video, photography and other pro apps. Presenting in eight Steve Jobs keynotes, Kerris was one of the few Apple executives permitted to talk to the press about Apple products. In this second Architosh interview (his first was well over a decade ago) Kerris discusses his career at places like Apple, HP, and Pixar and provides an informed market perspective on virtual and augmented reality (AR/VR), the changing nature of the creative "pro" in digital fields and of course the new Avegant Glyph.