News: AECO
AMC Bridge webinar: Path to Digital Twins
AMC Bridge expert discussions continue with the "Path to Digital Twins – Hype vs Reality" webinar.
News: MCAD
AMC Bridge announces its CAD-to-BIM translation software demonstration. This takes BIM and metadata in a 3D model from Creo Parametric and imports it into Autodesk Revit.
BOXX APEXX A3 boasts latest Ryzen 7000 processors
New BOXX APEXX A3 workstation features latest AMD Ryzen™ 7000 series processors, offering outstanding performance for professional software applications.
SPEC Releases SPECapc for Solidworks 2022 Benchmark
The new SPECapc for Solidworks 2022 by the Standard Performance Evaluation Corporation (SPEC) now supports 64-bit Windows systems and comes with new test models.
News: CAID
KeyShot 11 is a pivotal release that expands Luxion's continued advancements with users to solve their most pressing product development needs in the areas of material design, information management, motion, automation, and presentation.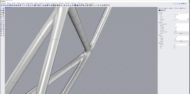 MultiPipe and new Apple Silicon Support in Rhino 7
Rhino 7 is now available for Apple Silicon Macs, plus adds a new powerful modeling command called MultiPipe.
Luxion Releases KeyShot 10.2
KeyShot 10.2 is a major new update from Luxion offering a completely new Materials Library, faster caustics and a lot more.
News: Visualization
Maxon kicks-off its New Year with a round of major Maxon One updates.
V-Ray 6 for Revit Connects with Enscape
Chaos announces that its V-Ray 6 for Revit connects with Enscape, so architects can easily share data between the two applications.
Twinmotion Now Available to All Revit Subscribers
Revit users now benefit from the power of immersive, real-time rendering from Epic Games' Twinmotion software.
News: Animation & VFX
Feature-rich update for Maya adds flexible workflow enhancements for simulation,  including new open source Bifrost-USD integration.
BOXX Technologies Announces APEXX S4 Workstation
The new BOXX Technologies APEXX S4 ships with Intel's latest high-performance processors and deliver outstanding performance at overclocked speeds with liquid cooling and rack-mount support option.
Autodesk launches Maya Creative
Autodesk launches its new Maya Creative, designed to make content creation more affordable for artists working in smaller studios.
Editor's Picks
News: Apple
Apple Intros new M2 Pro and M2 Max MacBook Pro
Apple delivers brand new MacBook Pros with new M2 Pro and M2 Max chips. Both make compelling mobile workstations.
Apple Unveils new M2 Chip in New Macs
Apple's M2 chip has arrived. It will be deployed in Apple's most popular Mac models and scale up through the product line over time.
Industry Commentary and Analysis
Gaining full 3Dconnexion 3D mice support to Vectorworks 2017 gives its users a lot more power in the area of 3D model creation, editing and navigation.
XTAL Professional VR Headset—As Shown at CES
New VR headset features unbeatable 8K resolution and unique VirtualLink capable implementation.
Building Together Digital Event—Features World's 2nd Tallest Structure
We take a look into themes shown in the upcoming Graphisoft Building Together digital global event and tie-in some analysis and commentary from what we heard a year ago at Graphisoft's last major event in the US.